EMPOWER The I-35 Travel Corridor: Add Passenger Rail
A Texas Rail Advocates Project
Bring frequent and dependable passenger rail service to the I-35 travel corridor from South Texas to Oklahoma and northward
Texas' population and economy are booming, with much of its growth occurring in the already-congested I-35 corridor. While TxDOT continues to explore roadway improvements to keep us and our economy moving, other options, such as passenger rail service, fit the needs of many travelers and could reduce demand on some of the state's most congested roadways. Through the Texas-Oklahoma Passenger Rail Study (TOPRS) TxDOT studied how passenger rail service could fit this corridor.
Texas Rail Advocates wants to make the I-35 corridor more than just asphalt and concrete for the future. That's why we call it "Empower 35."
#NotMoreLanesMoreTrains
---
1. TxDOT Texas-Oklahoma Passenger Rail Study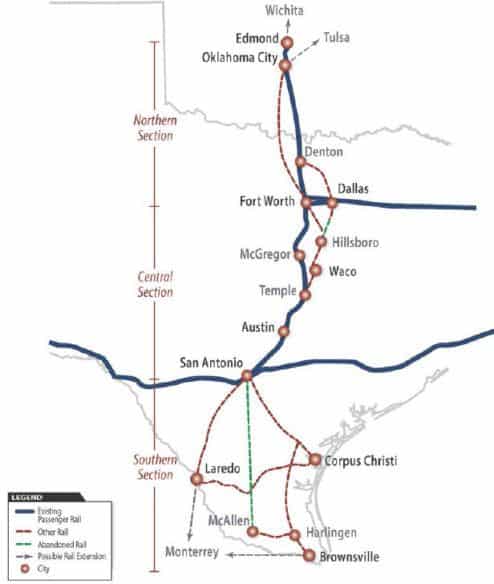 Oklahoma City to South Texas and Beyond
The Texas-Oklahoma Passenger Rail Study was a $7 million federally funded evaluation of a range of passenger rail service options in an 850-mile corridor from Oklahoma City to South Texas. The study concluded in November 2017 after the completion of a service-level environmental impact statement (EIS) and a service development plan. The following reports document how passenger rail could serve Texas communities and the benefits and impacts of different passenger rail choices. The study considers the corridor as a whole, as well as three discrete portions of the corridor.
Northern: Oklahoma City to Dallas/Fort Worth
Central: Dallas/Fort Worth to San Antonio
Southern: San Antonio to Rio Grande Valley/Corpus Christi/Laredo
Following phases of public input and environmental considerations, the service development study determined passenger rail service up to 220 mph between Dallas-Fort Worth and San Antonio is feasible. It also determined passenger rail service from San Antonio through Laredo to Monterrey, Mexico could be feasible. The study also revealed the possibility of having passenger rail service up to 125 mph from San Antonio to the Rio Grande Valley and improved conventional speed service between Dallas-Fort Worth and Oklahoma City.
"The advancement of this study is a positive step forward," said Texas Transportation Commissioner Jeff Austin III. "The study provides a foundation upon which the private sector, local stakeholders and our federal partners can consider opportunities to work together to potentially advance this project. As the population of Texas continues to grow, we will to continue to work with various partners to explore all opportunities to keep Texans moving. Options such as passenger rail service may be one way to keep up with growing demand."
The next step is up to the Texas Transportation Commission, Texas Department of Transportation and our state lawmakers to fund this corridor from Service Level to Project Level.
TxDOT has NO CURRENT FUNDING to carry this project forward. Texas continues to miss out on matching federal funding for rail projects because the state does not have a dedicated fund for rail projects. There has to be a Fair-Share-For-Rail to compete for federal programs.
---
2. Austin – San Antonio Passenger Rail Corridor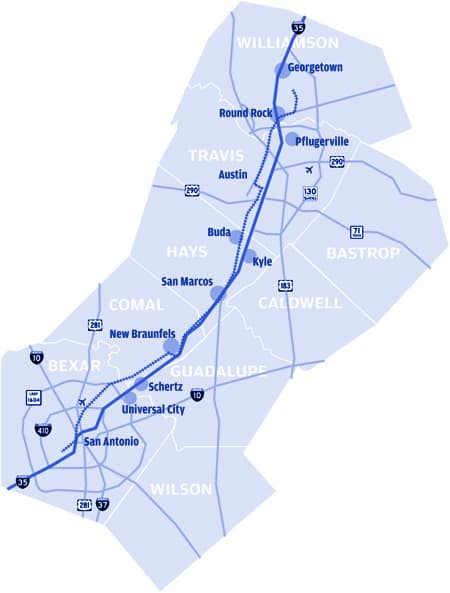 Much groundwork was accomplished in the Austin-San Antonio corridor over the past decade by the now-dormant Lone Star Rail District. However, vital background data from their business plan can help expedite the process in the future. The district, which was created by state law, lacked the significant taxation authority needed for a regional rail project and did not have access to use Union Pacific freight rail lines despite good intentions from both entities. The UP line cuts through the heart of all the cities involved and thus had been almost the sole focus of study for more than 20 years. Unfortunately Lone Star did not want to partner with the National Railroad Passenger Corporation, Amtrak, the only one passenger rail entity that has what is called "right of access" to other railroads around the country.
Texas Rail Advocates was approached by state elected representatives from both Austin and San Antonio in 2019, concerned that Texas Department of Transportation plans for Interstate 35 improvements from north of Austin to south of San Antonio did not include multi-modal solutions like corridor passenger rail service. TxDOT plans did include stretches of double-decking I-35. Any improvements on I-35 will only induce additional crippling congestion in the future. More than one solution is needed and that must include passenger rail service on or near this heavily traveled corridor.
In August 2019 twenty (20) Texas State Representatives petitioned the Chairman of the House Transportation Committee and the Speaker of the House to open hearings on what it will take to advance a passenger rail corridor from the Greater Austin area to the Great San Antonio area, a region that already suffers great highway traffic pains along the I-35 corridor. House Transportation Chair Terry Canales (D)-Edinburg received a bi-partisan letter from twenty Representatives that cover districts from north of Austin to south of San Antonio. The letter urged Canales to "consider and study the potential for intercity passenger rail, with initial focus on the greater Austin-San Antonio corridor, during this legislative interim." Canales responded positively to the letter but unfortunately Speaker of the Texas House Dennis Bonnen (R), who was responsible for determining the Interim Charges, turned down the request.
The twenty (20) State Representatives that signed on the Interim Charge for the Austin-San Antonio corridor: Rep. Steve Allison (House District 121); Diego Bernal (123); John Bucy (136); Sheryl Cole (46); Philip Cortez (117); John Cryier (17); Barbara Gervin-Hawkins (120); Vikki Goodwin (47); Roland Gutierrez (119); Gina Hinojosa (49); Donna Howard (48); Celia Israel (50); John Kuempel (44); Ray Lopez (125); Trey Martinez Fischer (116); Ina Minjarez (124); Leo Pacheco (118); Eddie Rodriguez (51); James Talarico (52) and Erin Zwiener (45).
---
3. San Antonio – Monterrey MX International Passenger Rail Corridor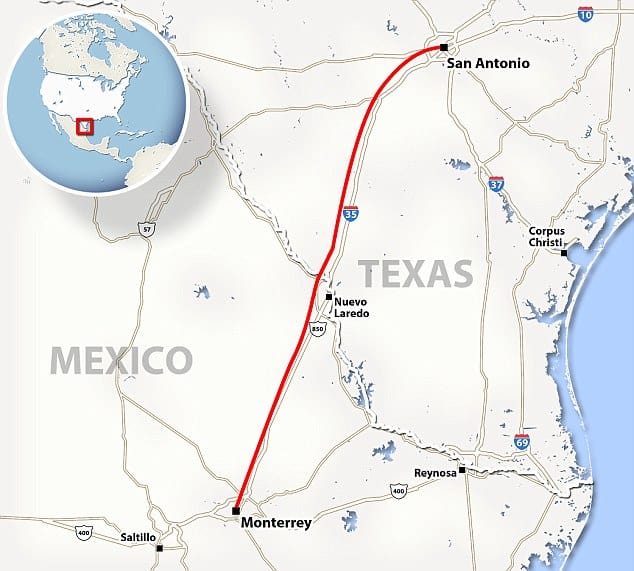 Mexican rail officials address needed international Monterrey to San Antonio passenger service
In a special Texas Rail Advocates online presentation Wednesday evening August 4th, 2021 officials of Mexico's state-owned rail system laid out how they want to address a passenger rail corridor between Monterrey, MX and San Antonio and work with their U.S. counterparts to make it a reality. There have been ongoing meetings between Mexican and Texas/U.S. rail agencies on this project.
The Laredo to San Antonio segment was studied as part of the Texas-Oklahoma Passenger Rail Study (See Section 2 above). In 2017 Congressman Henry Cuellar (Laredo) held meetings with U.S. and Mexican officials.
A Vision for Passenger Rail in South Texas: A report compiled by Transvid Holdings, LLC. is available from Charles Gillett at cgillett0928@gmail.com
---
4. Heartland Flyer Fort Worth-Oklahoma City-Kansas Corridor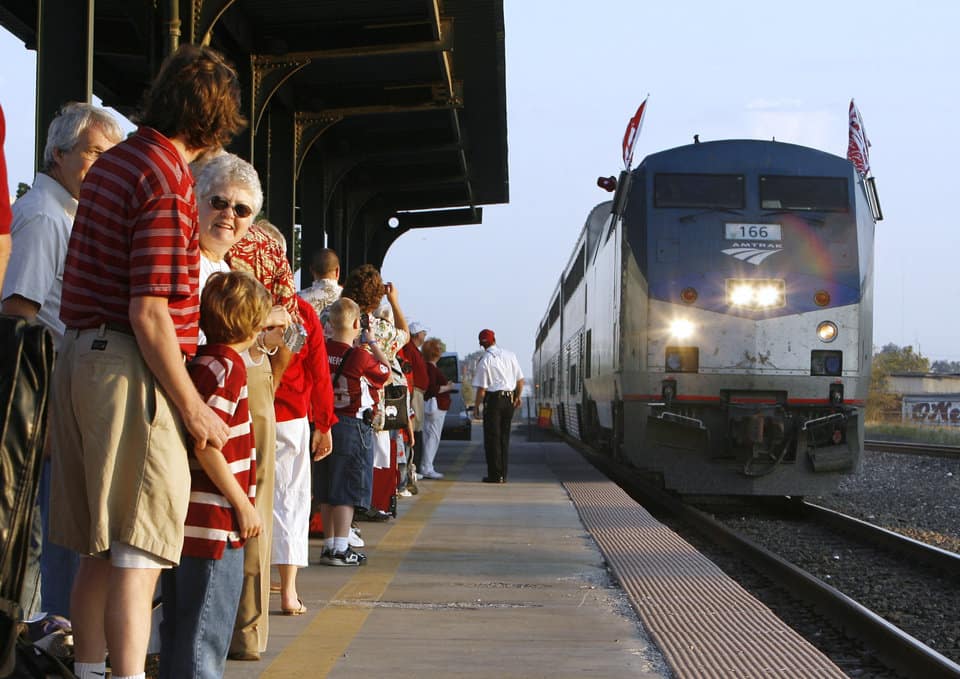 The Heartland Flyer is a daily passenger rail service that runs 206-miles between Fort Worth and Oklahoma City.
It is operated by Amtrak and is jointly funded by the Oklahoma and Texas Department of Transportation. The train's daily round-trip begins in Oklahoma City in the morning and reaches Fort Worth in the early afternoon. It leaves Fort Worth during the afternoon rush for an evening return to Oklahoma City.
The Texas A&M Transportation Institute conducted a study that measured the benefits of the Heartland Flyer service to the towns and cities it serves. An additional study conducted on Intercity Passenger Rail from A&M's Transportation Institute can be found here.
See Also: Kansas Senate passes resolution supporting extension of Heartland Flyer from Texas to Kansas.
---
5. Resolutions and letters of support
Regional Transportation Council and North Central Texas Council of Governments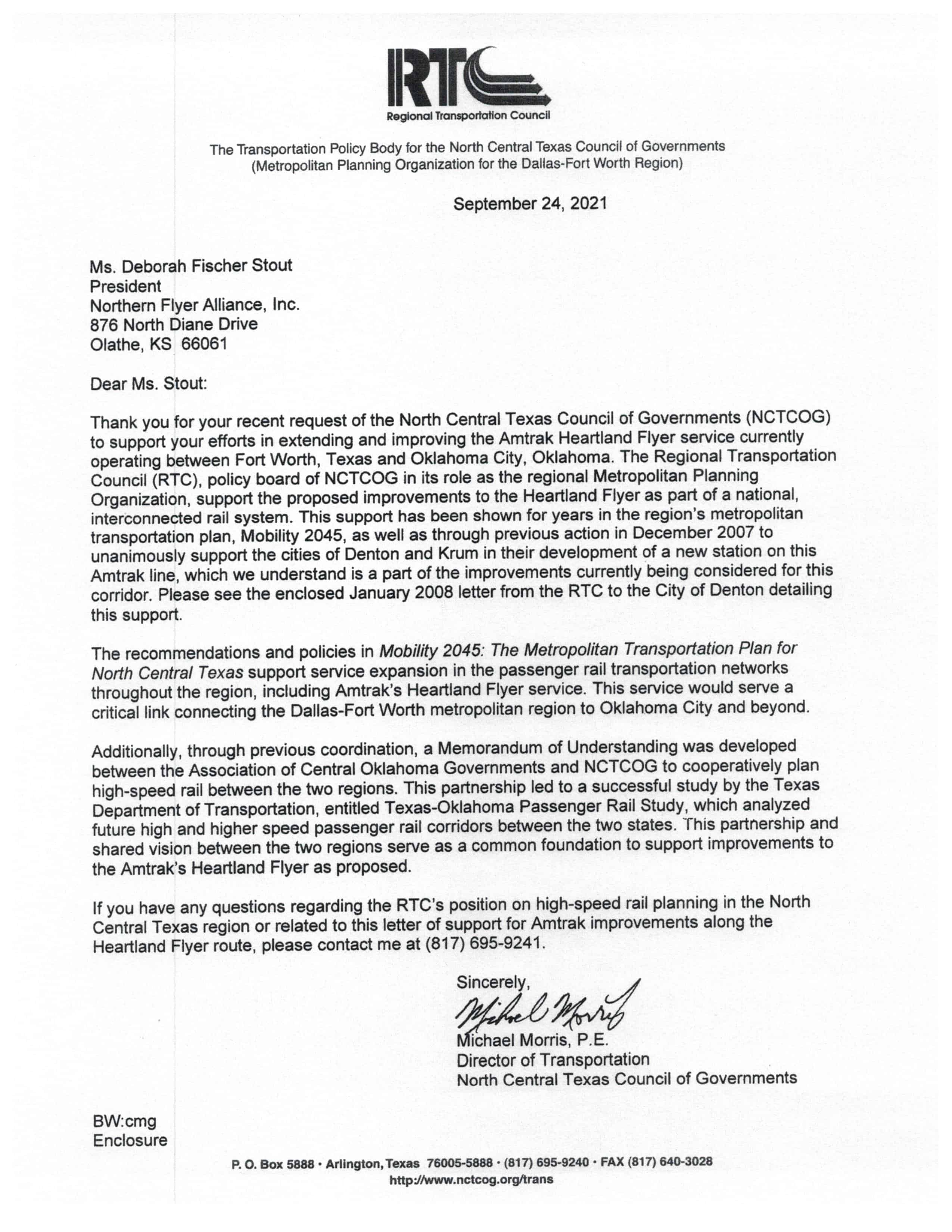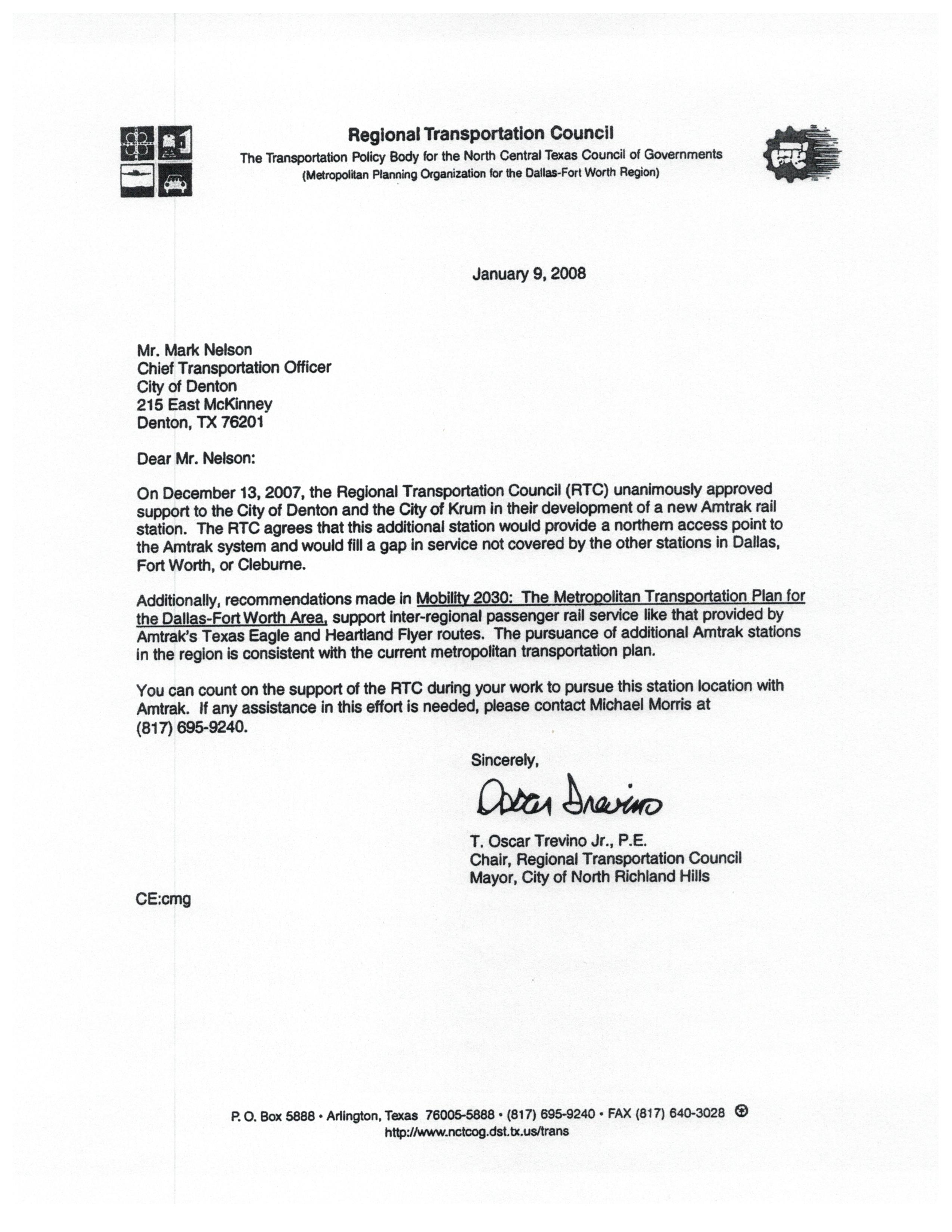 ---
6. News articles and other studies
Bringing passenger rail service to the I-35 corridor was discussed at the 2018 Annual Southwestern Rail Conference in Dallas, hosted by Texas Rail Advocates. Former TxDOT Rail Division Director Bill Glavin moderated a panel that includes Craig Moody, Rail Programs Division Manager at the Oklahoma Department of Transportation; North Central Texas Council of Governments Program Manager Kevin Feldt and Jessica Attas, Director of Public Policy at the Greater Waco Chamber of Commerce.
An Austin to Houston passenger rail corridor study was completed by TxDOT in 2011 but has not advanced since then. This high-traffic corridor deserves attention for development. The study analyzed the feasibility of implementing 110 mph intercity passenger rail service between Austin and Houston including possible service to Bryan/ College Station.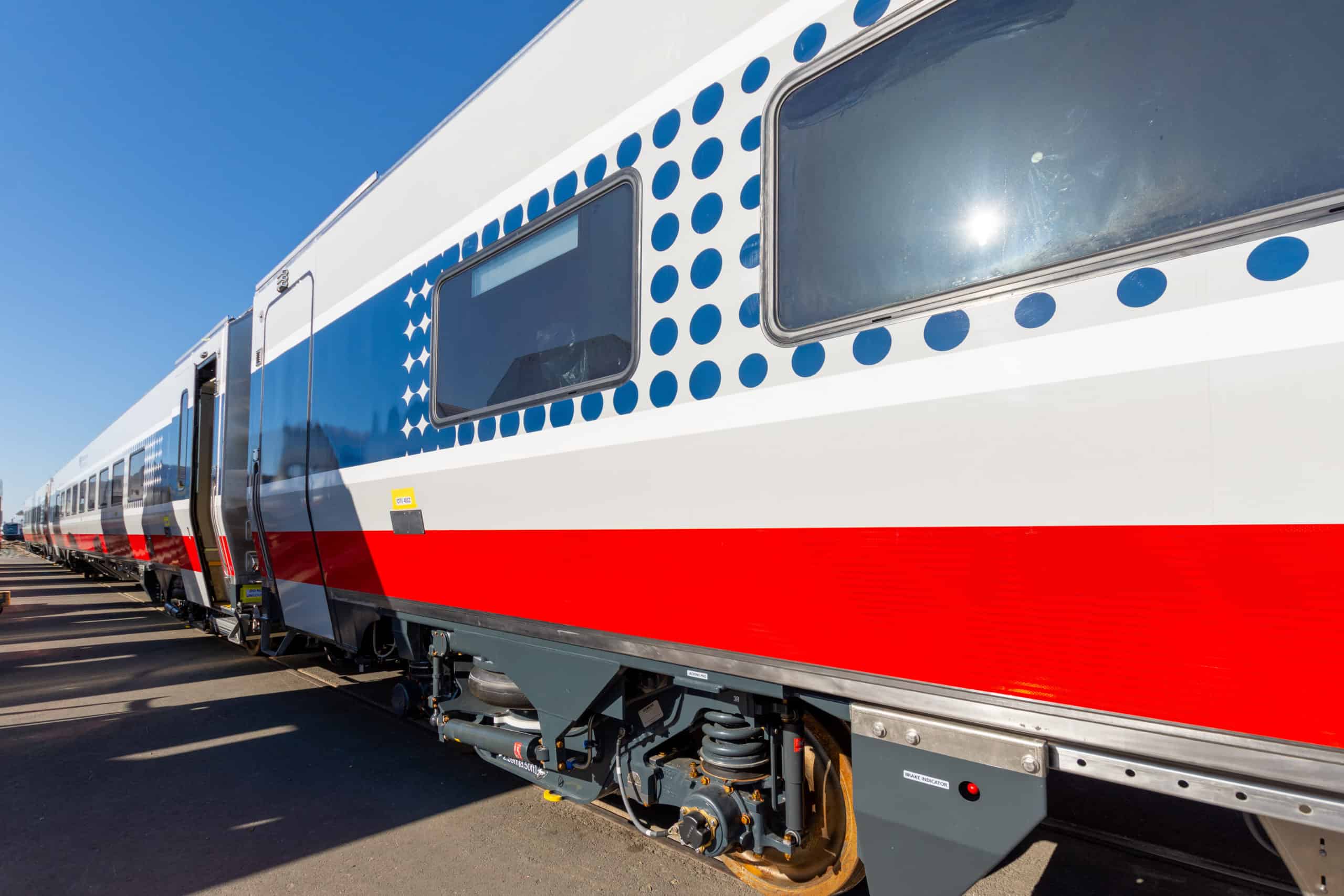 That train from San Antonio to Austin might be more possible than you think.
April 7, 2021 - Camille Sauers for MySA.com.
On April 1, in response to Biden's American Jobs Plan, which allocates 80 billion in railway support, Amtrak announced intentions to expand their railway network — including trains running between San Antonio, Austin, Houston and Fort Worth. Amtrak details a network of over 30 new routes in 15 new states and connecting 160 new communities and is budgeted with Biden's new Jobs Plan. Though nothing is set in stone — Biden's funding is still reliant on Congress to pass — a new system suddenly appears much more possible.
Read more: https://www.mysanantonio.com/lifestyle/article/amtrak-san-antonio-austin-american-jobs-plan-16083024.php
---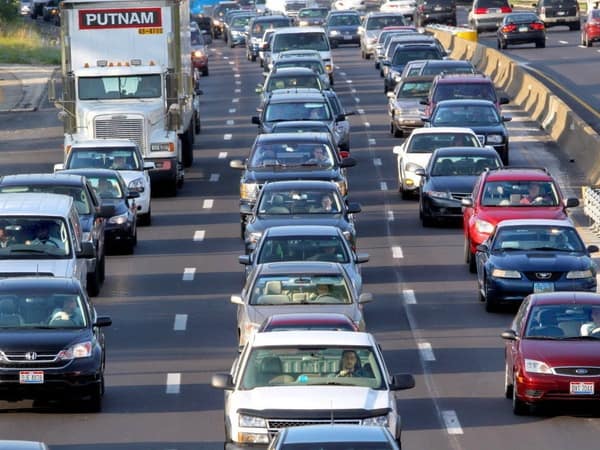 I-35 in Austin: worst traffic congestion in Texas (with no rail planned)
December 3, 2020 -TRA Newswire
It should come as no surprise to anyone who drives I-35 through Austin. The stretch of the interstate from U.S. Highway 290 north to State Highway 71, Ben White Boulevard in the south, has been identified as the most congested roadway in Texas. That and many other identified Texas highways judged as the largest congestion offenders in the state do not have any rail transit alternatives built in to the roadway infrastructure. The Texas A&M Transportation Institute (TTI) released its findings Tuesday.
---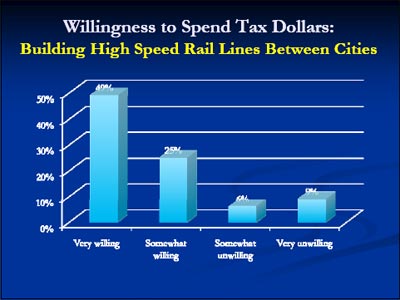 Majority of Texans surveyed want passenger rail service
October 20, 2011 -TRA Newswire
A study conducted by a research group at the University of Texas at the request of the Texas Department of Transportation shows that an overwhelming majority of Texans surveyed not only want more passenger rail service in their area and statewide, but they are willing to commit tax dollars and additional resources to make it happen.
Read more: https://texasrailadvocates.org/issues/university-of-texas-study