December 18, 2022 - TRA Newswire -
Passenger rail service along the Gulf Coast corridor from New Orleans eastward will return in 2023, following an agreement between railroads, ports, cities, the Southern Rail Commission and service provider Amtrak.
The non-profit news site Mississippi Today obtained a copy of a grant application through a records request that asks for $179 million in federal rail funds to help pay for a "Gulf Coast Corridor Improvement Project." The application, filed by the Southern Rail Commission, would include some $44 million in funding from other partners.
The grant application was filed under the CRISI (Consolidated Rail Infrastructure and Safety Improvement) program, which has been expanded thanks to the Infrastructure law passed by Congress in late 2021.
According to the news source, CSX, Norfolk Southern and the Alabama State Port Authority will jointly contribute about $15 million toward service restoration with Amtrak adding $6 million. Up to 12 Infrastructure improvements are to be completed by 2026 but corridor passenger trains will be able to run while the upgrades are underway to track, switches, crossings and stations.
The settlement comes after years of the Southern Rail Commission and Amtrak being at loggerheads with railroads and the port of Mobile and avoids a Surface Transportation Commission ruling. The service would include two round-trips a day between New Orleans, intermediate cities and Mobile, Alabama.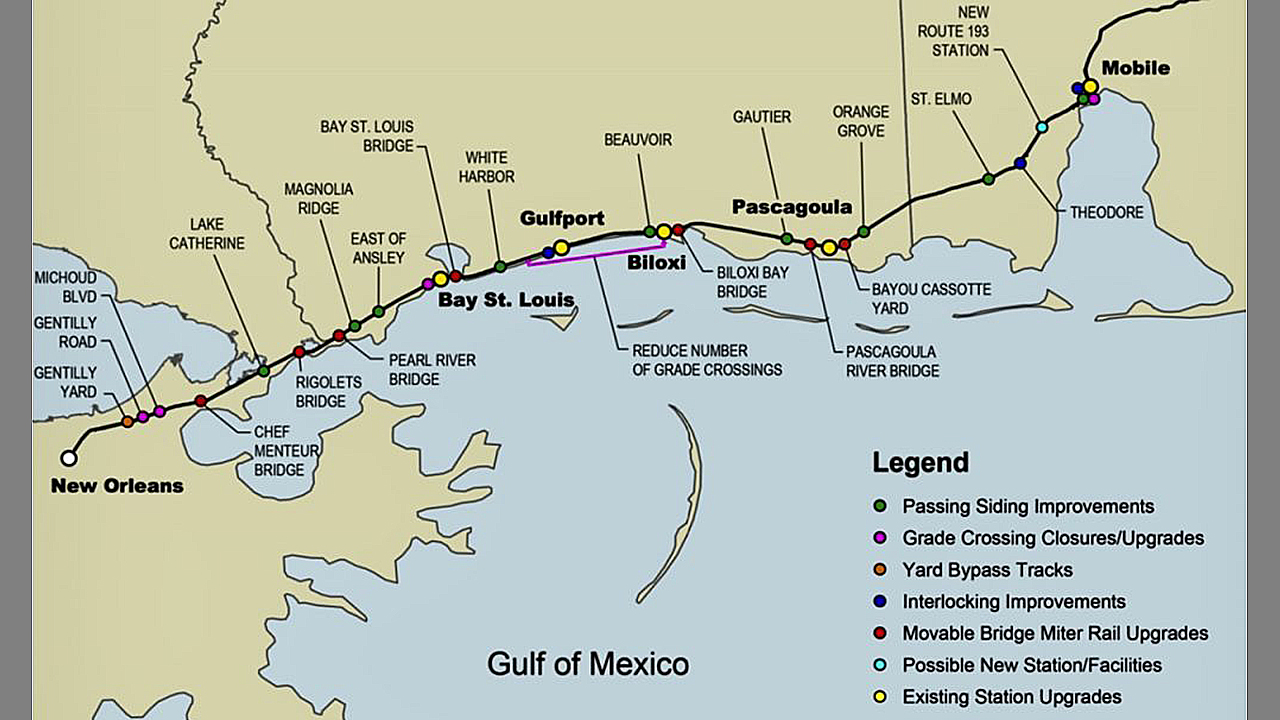 All parties are staying mum on further information while details are being worked out.
Southern Rail Commission (SRC) Chairman Knox Ross was quoted in the Mississippi Today article as saying "What I can say is that once these improvements are made, it will result in a 3-hour-and-23-minute trip time. At the beginning, you will have something longer than that."
The SRC was previously awarded $33 million through a federal grant and that money is still banked.
CSX Executive Vice President of Operations Jamie Boychuk was quoted saying "The Project will facilitate the introduction of a new twice-daily Amtrak service between New Orleans and Mobile, while simultaneously supporting freight service quality."
Other funding for route improvements reportedly come from the Mississippi Legislature ($14 million), About $9 million from the state of Louisiana, the Port of Pascagoula kicked in $2 million and $750,000 in funds from the Alabama State Port Authority.
U.S. Senator Roger Wicker (R), Mississippi, said in a letter that accompanied the grant application, "Implementing a twice-daily service between New Orleans and Mobile would provide a huge economic lift to Bay St. Louis, Gulfport, Biloxi and Pascagoula, and other cities along Mississippi's Gulf Coast. It would serve as a culmination of Mississippi's efforts to recover from Hurricane Katrina. Since 2010, the population of the Mississippi Gulf Coast has grown steadily, and an additional transportation option would encourage further growth and improve quality of life for current residents.
The Commission, in its filing, is asking for more funds that it did in 2018 due to rising construction costs and noted that new public-partnerships are "bringing momentum" to the project.
The aim of the Commission is to make New Orleans a hub through the Union Passenger Terminal with new service scheduled between the crescent city and Baton Rouge and eventually to Texas.
See also Railway Age, December 23, 2022 news report:
https://www.railwayage.com/passenger/intercity/amtrak-posts-gulf-coast-grant-application-for-public-viewing/https://www.railwayage.com/passenger/intercity/amtrak-posts-gulf-coast-grant-application-for-public-viewing/

Photo credit: Southern Rail Commission and Railway Age