January 31, 2023- TRA Newswire -
Buried in the language of the Infrastructure bill that Congress passed in late 2021 is a directive to the Federal Railroad Administration to study routes that Amtrak either eliminated from its systemwide timetable entirely or cut to less than daily service.
This year, the FRA will be conducting an Amtrak Daily Long Distance Service Study to determine if there is reason to restore service to communities that lost passenger rail connections. Some of the towns and cities have been without passenger rail service since the 70's and 80's, while also facing diminished air and bus service or no intercity public transportation options at all.
In Texas, trains to be studied are the Sunset Limited and the Lone Star.
The Lone Star, which operated until 1979, ran between Chicago and Houston, via Kansas City, Wichita, Oklahoma CIty and Fort Worth. Congress cut Amtrak's budget in the late 70's and axed a number of routes during the Carter administration, including the Lone Star. The train was popular with students at many colleges and universities along the way and the one daily train carried 274,448 passengers in fiscal year 1976.
The Lone Star follows part of the same route as the Heartland Flyer, which is a partnered service of the Oklahoma and Texas Department of Transportation. The Flyer runs a daily round-trip between Oklahoma City and Fort Worth with a stop in Gainesville, Texas and several Oklahoma cities. If the Lone Star service was revived, it would fall under federal guidelines of a long-distance route and individual states would not be responsible for its operation. It would serve as a "backbone" for Heartland Flyer corridor service with a second daily frequency.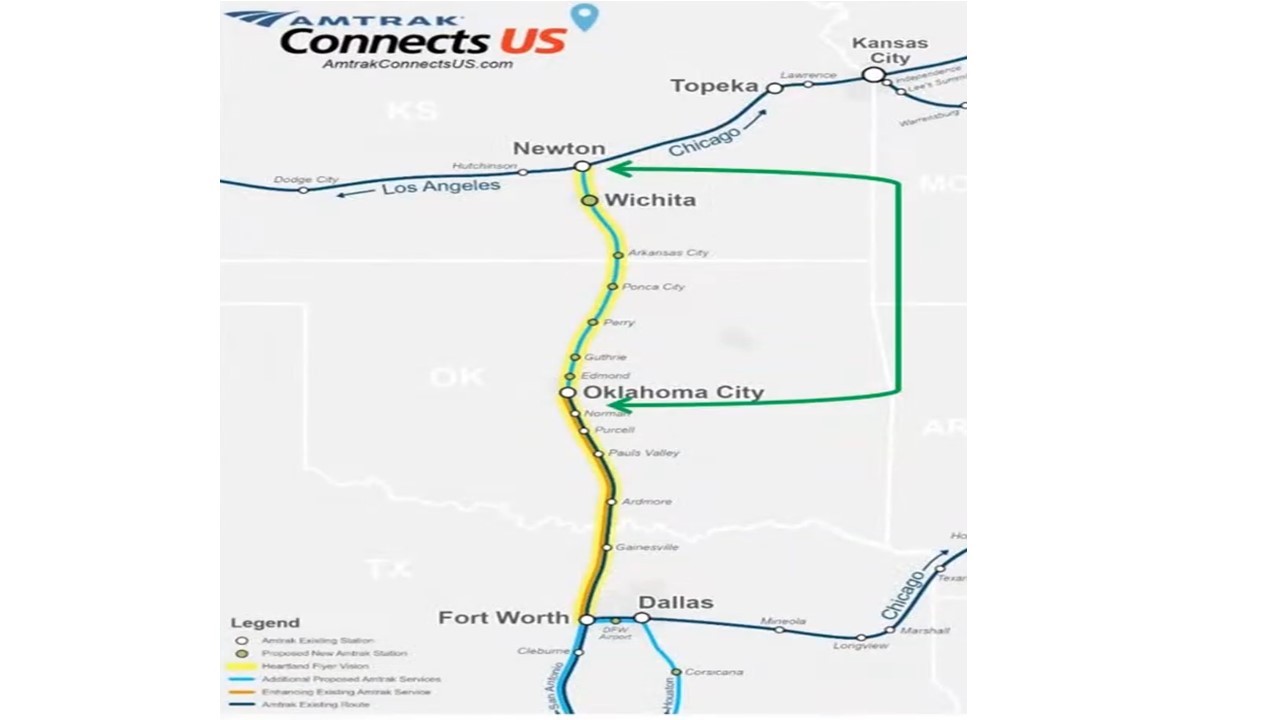 The Heartland Flyer is under consideration by Oklahoma and Kansas for an extension of service northward from Oklahoma City to meet with Amtrak national network service at Newton, Kansas.
Amtrak's Sunset Limited operates on a tri-weekly schedule between Los Angeles and New Orleans with Texas stations at El Paso, Alpine, Sanderson, Del Rio, San Antonio, Houston and Beaumont. Until Hurricane Katrina in 2005, the Sunset operated east of New Orleans to Orlando and at one time as far as Miami. Union Pacific Railroad's predecessor, Southern Pacific, began service in 1894, making it the oldest continuously operating passenger train in the U.S. Amtrak acquired the Sunset Route when the company was formed in 1971.
With population growth continuing to explode along the east-west I-10 sunbelt corridor, daily service on the Sunset Limited has been on the radar of communities and advocates for quite a while. A section of the Texas Eagle joins with the Sunset Limited at San Antonio three times a week, offering connections westward.
Photo credit: CHarles O'Rear - 1974 - Amtrak Lone Star at Fort Worth