September 29, 2023 - TRA Newswire -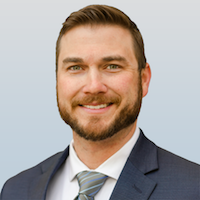 Reed Lanham has been named Trinity Metro's Vice President of Rail.
Not a new name to rail operations in North Texas, Lanham spent the last four years as Deputy VP of rail for TEXRail, which operates trains between downtown Fort Worth and DFW International Airport.
Lanham will oversee both TEXRail and Trinity Railway Express services. TRE is a partnership between Trinity Metro and Dallas Area Rapid Transit (DART) and operates frequent service between downtown Fort Worth and downtown Dallas.
He will be responsible for implementing new programs "to elevate the quality, reliability and consistency of Trinity Railway Express and TEXRail services", as stated in a press release.
Lanham has 16 years of commuter rail experience and worked for Trinity Metro since 2015, holding several leadership roles in the rail department that included Vice President of Strategy and Technology, Manager of Rail Operations and Director of Safety and Compliance.
He played a key role in the TEXRail startup and led the agency's implementation of Positive Train Control on both TEXRail and the TRE.
Before Trinity Metro Lanham spent almost eight years at Herzog Technologies Inc.



Photo credit: Trinity Metro