Updated June 6, 2023 - TRA Newswire -
The Federal Railroad Administration will be releasing funds totaling some $86 million for five major grade-crossing projects in Texas cities through the Railroad Crossing Elimination (RCE) Grant Program. The funds come from the Bipartisan Infrastructure Law passed by Congress. When completed, the projects in the Houston region, Amarillo, San Antonio and Fort Worth area will help reduce train-vehicle collisions and blocked rail crossings from long trains.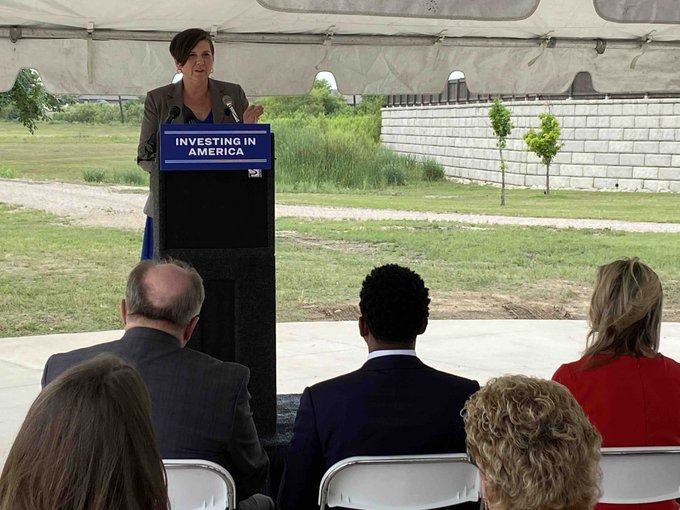 Brandye Hendrickson, @TxDOT Deputy Executive Director for Planning and Administration, joined @USDOTFRA @NCTCOGtrans @CityofFortWorth and @BNSFRailway leadership Tuesday to celebrate a $17 million FRA grant to construct an overpass at Bonds Ranch Road just west of US 287.
"Separating railroads from vehicle traffic is one of the best ways to improve safety and ease congestion for communities," TxDOT Rail Division Director Jeff Davis said. "Many people, including first responders, can be delayed by blocked railroad crossings, and so not only can these projects avoid those delays, but they can also prevent crashes between trains and vehicles."

This inaugural round of $570 million in funding will address more than 400 at-grade crossings nationwide, improve safety, and make it easier to get around railroad tracks by adding grade separations, closing at-grade crossings, and improving existing at-grade crossings where train tracks and roads intersect. Last year, there were more than 2,000 highway-rail crossing collisions in the U.S. and more than 30,000 reports of blocked crossings submitted to FRA's public complaint portal.
"Every year, commuters, residents, and first responders lose valuable time waiting at blocked railroad crossings – and worse, those crossings are too often the site of collisions that could be prevented," said U.S. Transportation Secretary Pete Buttigieg. "As part of President Biden's Investing in America agenda, we're improving rail crossings in communities across the country to save lives, time, and resources for American families."
Even more could have been accomplished around the state if the Texas legislature would have approved a rail transportation rider request of $200 million sought for the state Rail Relocation and Improvement Fund in the session just ended. Those funds could have been leveraged for more FRA competitive grants in safety improvements at other at-grade crossings in need of upgrades.
Here is the breakdown of the five projects that will receive federal funding:
Houston: Phase 1 of the West Belt Improvement Project - $36,916,200
The project will fund a 9,000 foot sealed corridor, construct four underpasses, close four at-grade crossings, and eliminate seven at-grade roadway-rail crossings total—crossings where more than 850 incidents of train blockages have been reported this year through FRA's online portal. In addition to reducing commuter disruptions and delays, decreased vehicle idling at crossings will improve air quality and save people an estimated $12.7 million in lost fuel, according to the city. Texas is second in the nation in grade crossing fatalities, and this project will increase safety for drivers, pedestrians, and bicyclists, as well as reliable access for first responders. The Phase 1 project being funded by the Biden-Harris Administration and the City of Houston is also a critical step in developing a future 5-mile long quiet zone that will improve quality of life and remove train horn noise for nearly 15,000 households.
Katherine Parker ,Executive Director of the Gulf Coast Rail District is pleased at the grant award. "The Gulf Coast Rail District is excited to move forward with this long standing project. The grade separations will be a huge improvement for mobility and quality of life for the residents of the East End of Houston. Our collaborative efforts through THE HART committee helped to make this Railroad Crossing Elimination grant application a success."
Dayton: U.S. 90 Grade Separation Project - Up To $19,550,000
The proposed project will support construction to remove two at-grade rail crossings. The project closes the at-grade crossing along Waco Street and builds a grade separated bridge to eliminate the US 90 highway-rail crossing over existing UPRR tracks. FRA previously funded project development activities for these crossings under an FY19 CRISI Grant. The project includes $25,466,157 in Federal Highway Administration funds, and the Texas Department of Transportation will contribute a 20 percent non- Federal match. This project qualifies for the statutory set-aside for projects in Rural Areas.
Haslet-Fort Worth-Saginaw Corridor: Bonds Ranch Road Grade Separation Project - Up To $17,187,552

The proposed project will support final design and construction for a four-lane grade separated road with new multimodal shared-use bicycle and pedestrian pathways. This project will improve safety at rail crossing right-of way owned by BNSF and provide transportation modal alternatives. The project includes $229,167 in Federal Highway Administration funds, and the City of Fort Worth and BNSF will contribute 24 percent in non-Federal match funds.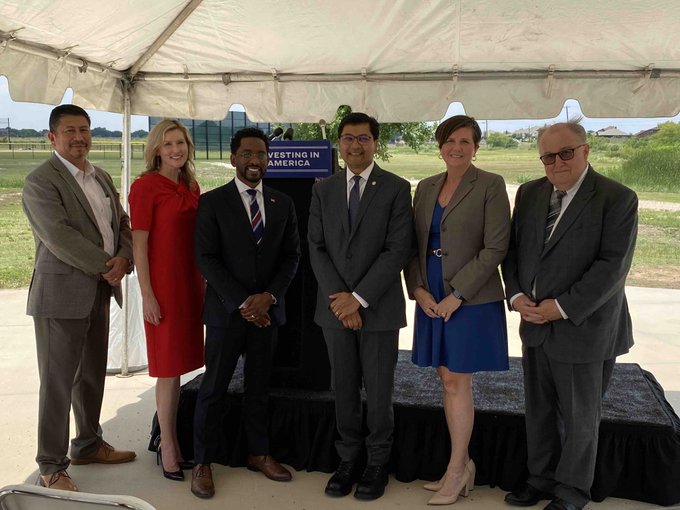 Federal, @TxDOT and local leaders celebrated a more than $17 million dollar @USDOTFRA grant to construct an overpass at the Bonds Ranch Road and @BNSFRailway crossing in north Fort Worth on June 6th. The project will enhance mobility and safety for drivers, bicyclists and pedestrians.
Amarillo: NE 24th Avenue Railroad Overpass - Up To $8,425,000

The proposed project will fund final design and construction to eliminate an existing grade crossing by building an overpass for an existing five-lane arterial road over rail line. The project proposes to build a modern, multi-modal bridge in the Eastridge Neighborhood in East Amarillo, resulting in the elimination of a grade crossing for the BNSF rail line at this location. This grade separation will provide a safe connection for all modes of transportation for residents of Eastridge and surrounding neighborhoods to the rest of Amarillo, and it adds capacity to NE 24th Avenue which serves as an expanding economic anchor in the area. The City of Amarillo will contribute a 26 percent non-Federal match.
San Antonio: Rittiman Road Grade Separation Project - Up To $4,886,512
The proposed project will support project development and final design to eliminate an at-grade crossing where Rittiman Road and Union Pacific's rail line intersect and to build a grade-separated road overpass. The project will design solutions to eliminate issues with vehicular traffic encountering trains blocking the crossing multiple times per day (projected to be blocked 40 percent of peak period without improvements by 2045) due to high train volume and rail operations. The City of San Antonio will partner with the Texas Department of Transportation to provide a 20 non-Federal percent match.
"The Railroad Crossing Elimination Grant Program is another critical tool that FRA is using to make a lasting impact on the safety and transportation needs of communities nationwide," said FRA Administrator Amit Bose. "With these project selections and the many more that are to come, we will save lives and reshape infrastructure in ways that allow individuals to move through their neighborhoods seamlessly and safely."

For years, FRA has received complaints from citizens, states, and localities regarding the delays and disruptions caused by frequently blocked crossings that force residents to wait hours at intersections or take detours. These delays and disruptions can also prevent first responders from getting to emergencies quickly. Further, over 2,000 collisions occur every year at highway-rail grade crossings. The projects selected for funding in the first year of this program will greatly improve the quality of life in communities big and small, creating safer rail crossings and allowing people to get to and from their homes, schools, businesses, hospitals, fire stations, and workplaces without being stranded and delayed by a standing train.

Along with projects that build or upgrade physical infrastructure at railroad crossings, FRA awarded $15.7 million for planning activities and $33.1 million for project development and design activities that will build a pipeline of projects for future funding. Twenty two percent of all funding, $127.5 million, was awarded to projects in rural areas or on Tribal lands.
Photo credit: TxDOT